Turn Your
Protocols

Into

Teachable Content
Level Up is an online learning platform geared toward dentists. ⁠⁠⁠Draft your content (or use ours), assign it to staff, and verify that it's been completed using our easy to use online platform.
Sign Up today and get your first month FREE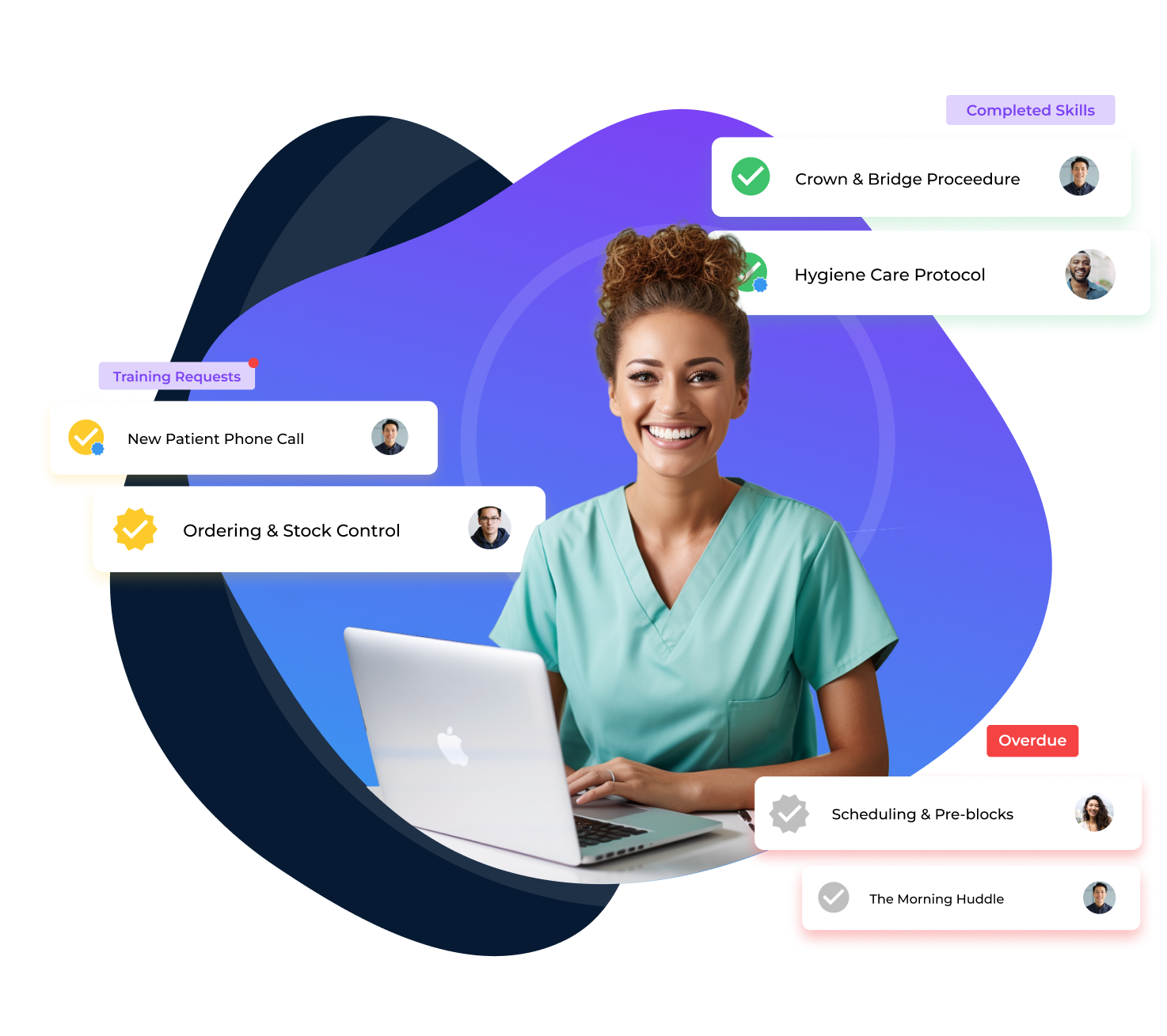 Seamless

Staff Onboarding
With Level Up, training new staff can be easy
We've got training schedules and protocols packed with high value information that will get your new hire started on the right foot.
Personalised Learning Program
Your new hire will have access to Level Up's personalised learning program, where you can assign skills, add due dates and select competency requirements ensuring your staff member stays on top of their training.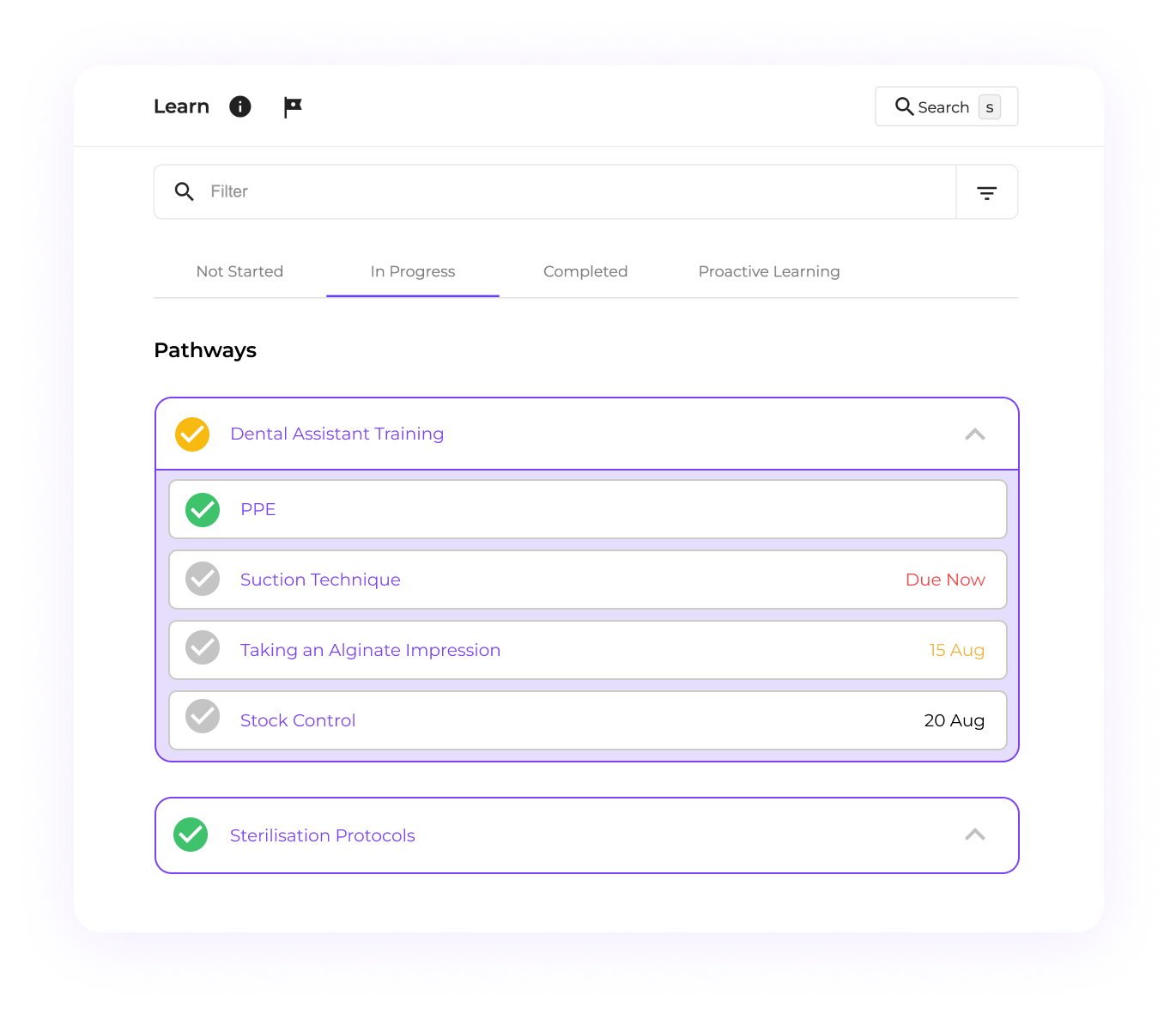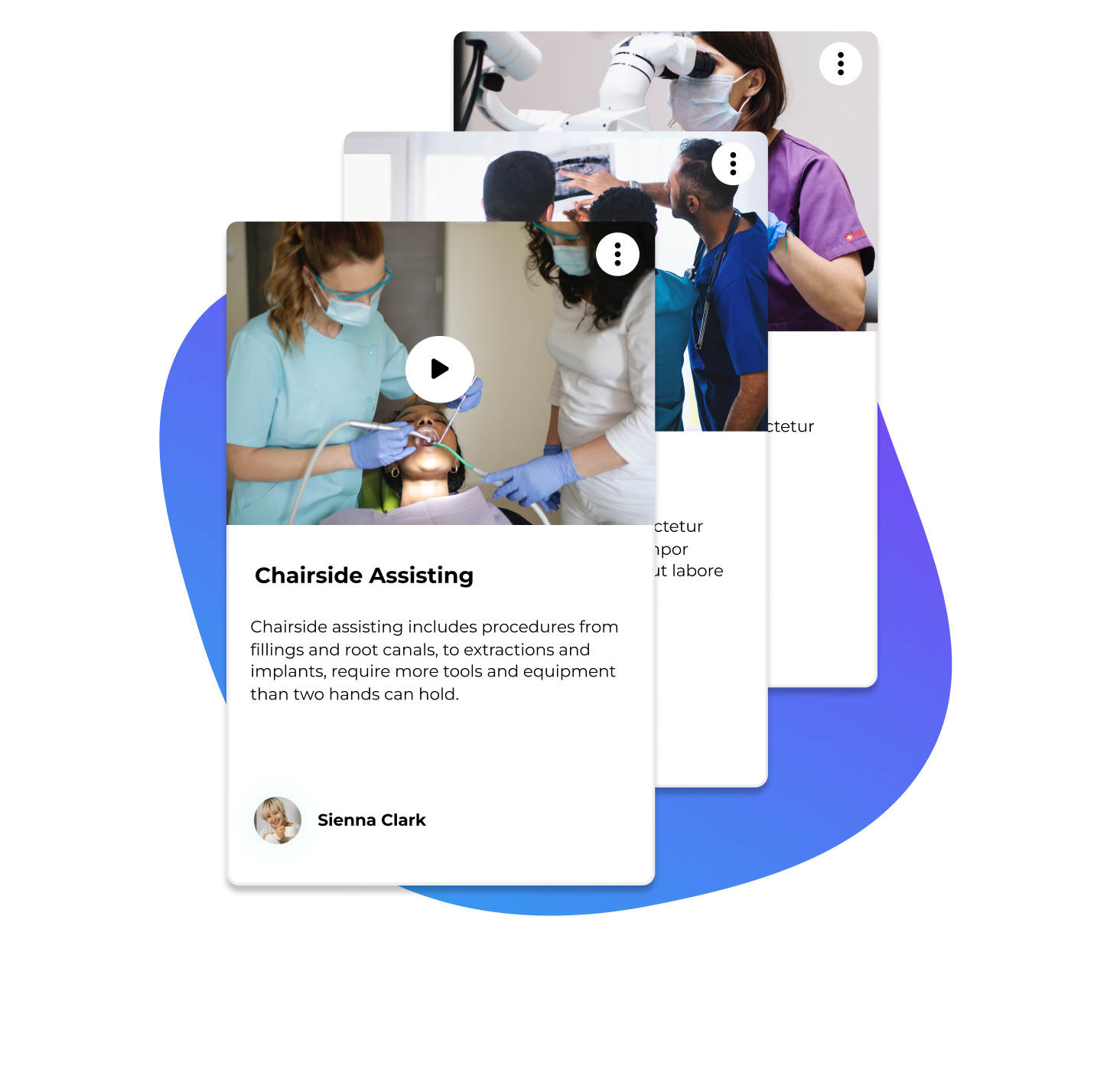 Maintain

Patient Care and Satisfaction

Standards
Create best practice at your practice
The only way to ensure best practice is consistently achieved is to standardise your procedures. Use Level Up's tools to create documentation that will help you care for your patients and guarantee patient satisfaction.
Bring your documents to life
Use videos and images to demonstrate patient care, and create a clear curriculum that your staff can easily follow along to.
Supercharge Your
Productivity
Save valuable time
Use our systems, skills, and guides to create a rich training program that you can apply to your new hires, every single time. Create your training manual once, and apply it over and over again.
Systemise once, delegate forever
You don't have time not to. Create systems that your team can follow every single time ensuring your patients get the best care through one consistent approach.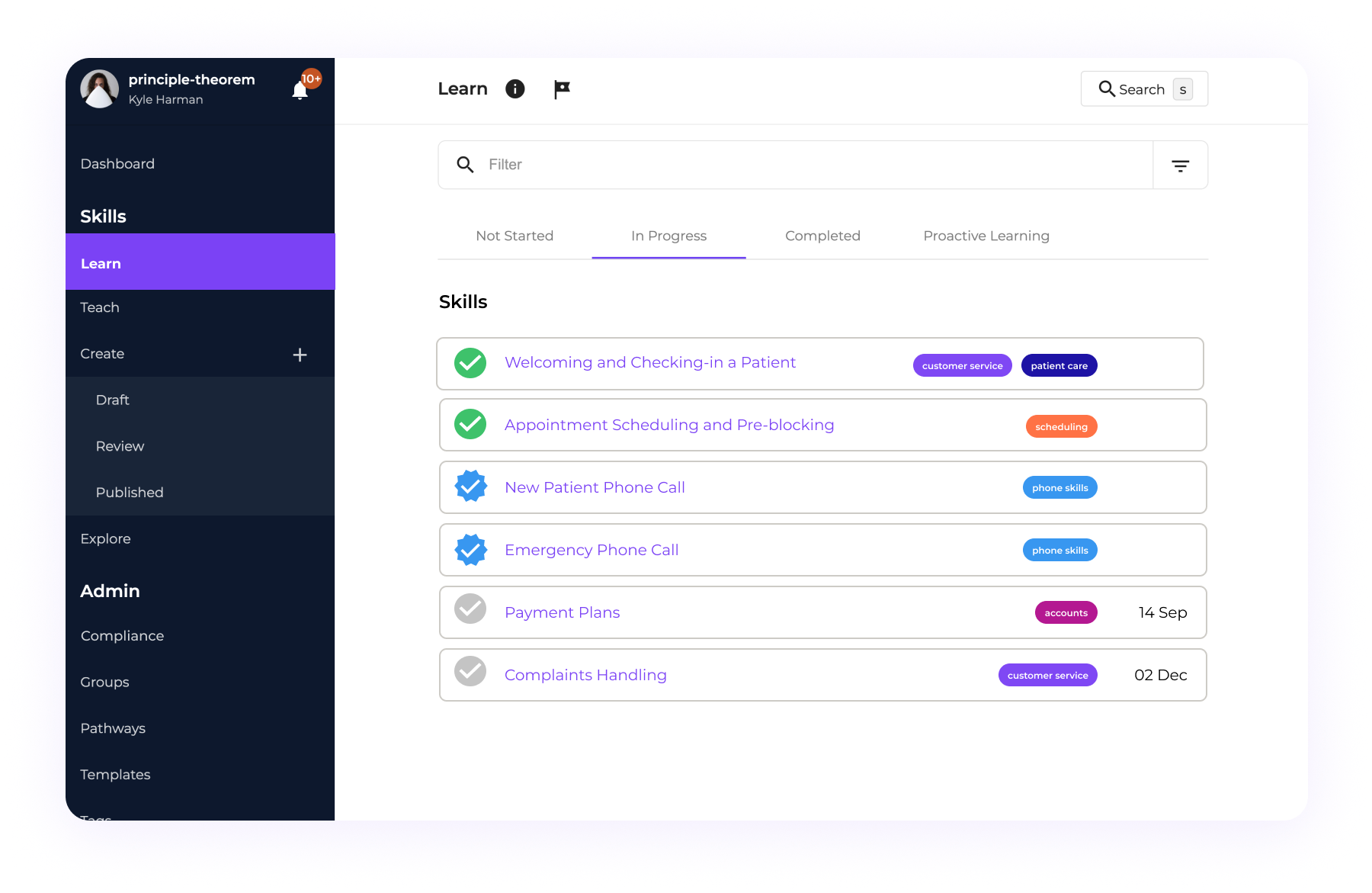 Get a head start with our Complete Dental Practice Kit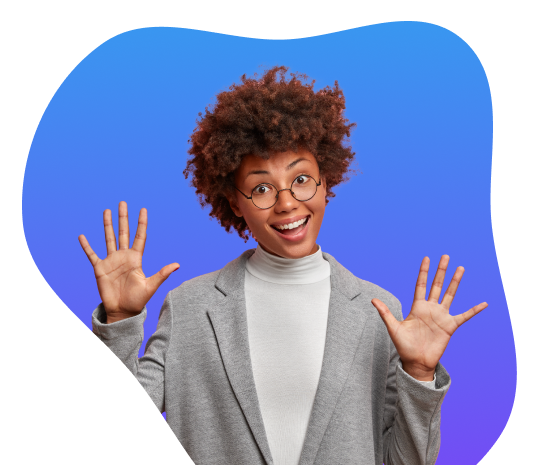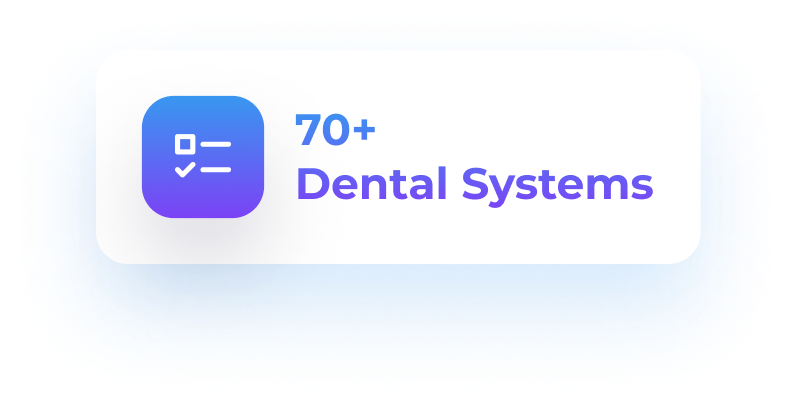 Know your priorities
Train new staff, up-skill existing staff, and see gaps in team knowledge with Level Up's User Profiles. Click in to see a team member's training program and take steps to get them moving forward.
Clear training goals
Ensure that your team is working to their greatest potential by setting clear training goals as part of your practice curriculum.
Growth opportunities
Have your best staff members train your newest ones and ensure that continuing education becomes part of your practice's ethos.
Scalable learning
Once your practice's playbook is written, you can apply it over and over again. Your written skills will be invaluable when training new hires, extending your existing practice and even expanding in to your next location.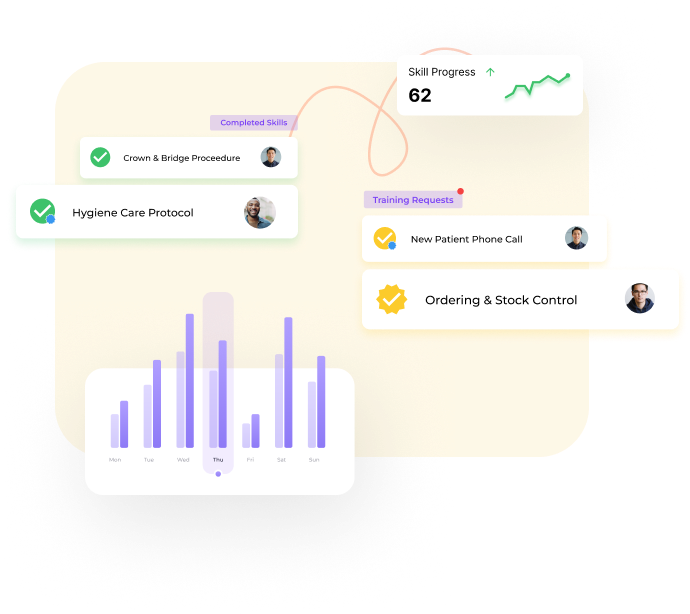 Focus your training efforts
Use your valuable time to run group training sessions where your team will benefit from collaborative learning, boosted engagement and practice applying their skills with each other. Once training is completed, verify your team's learning with a click of a button.
Simplified Training Tracking
Manage training requests as they come in and prioritise training either at an individual or team level.
Stay on track
Communicate deadlines to your team with Level Up's deadline feature, allowing your team to allocate valuable training time, prioritise their learning, and stay focused on completing their skills.
Share the load
Once you've trained others to be proficient in your skill, assign them as trainers too. Together, you can collaborate on your skill, ensuring it stays updated and any new team members get trained to your standards.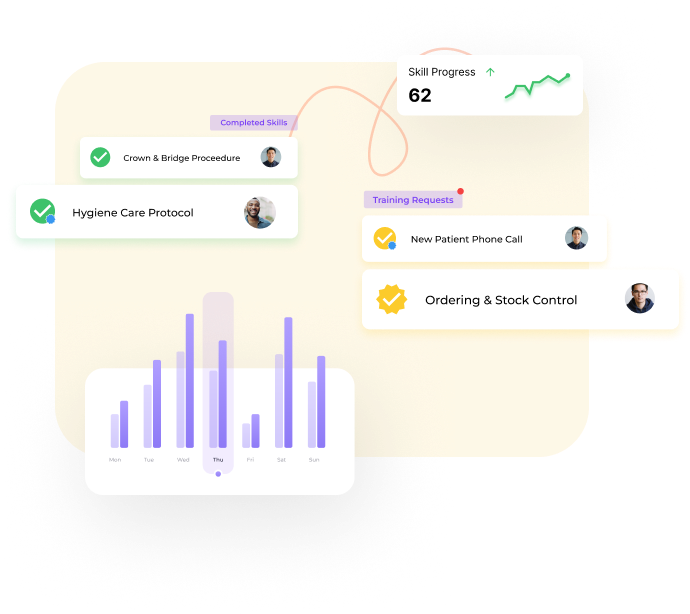 Get started on the right foot
With a verified training program and trainers to teach you the ropes, Level Up helps you to succeed in your role.
An elevated learning experience
Get the experience of your best team members plus the content of Level Up's skills to get a meaningful understanding of any procedure at your practice.
Self-guided learning
Busy at the practice? Going on holiday? Pick up your learning right where you left off, using Level Up's Learn page. Your next skills requirements will be displayed, ready for you to get started.
Priorities first
Organise your training program by due date, so when priorities shift, you know what to focus on next.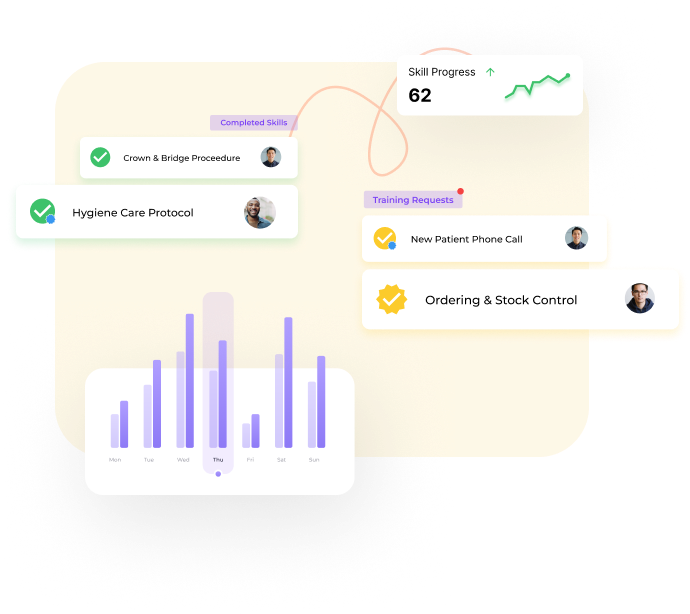 Leverage the capabilities of your team
Level Up's user friendly Create page makes it easy for beginners to create and manage skills, so your whole team can contribute to building your practice manual!
Effortless Content Creation
If you've written an email, you'll be familiar with Level Up's Create page. Easily drag and drop images, add videos, and draft content seamlessly.
Sharing Knowledge
Share your valuable knowledge with your team, ensuring things are always done the right way, even when you're away.
Accountability
Optionally choose to have your teammate review your skill to make sure it's perfect before sending out to the rest of your team. Our Review process keeps you and your team accountable.